Licensing Support & Required Training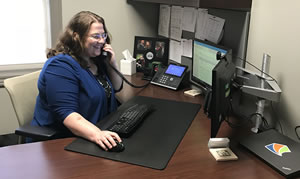 At Wholehan Marketing, we strive to make it easier for you to do business! Licensing and training requirements have never been more complex, and we are committed to making this process as easy as possible so you can continue to explore new carriers and provide new solutions for your clients'. Click here to get the ball rolling and partner with us today! By completing this ONE TIME ONLY Fast Track online Contracting profile, we can continue to appoint you with new carriers in the future at your request. If you prefer to print the contracting documents to fill out by hand, please contact us for the appropriate documentation. Our partnering advisors have access to over 50 leading insurance carriers in the industry, and you will have the knowledge and support of our sales and administrative staff who are committed to high standards of service allowing you to remain in the field to uncover new opportunities with your clients!
If you have already filled out the Fast Track Contracting profile, and wish to appoint with a new carrier today, you can do so by contacting us at licensing@wholehan.com
THREE MINUTE TUTORIAL VIDEO for Fast Track Online Contracting.
Fast Track Contracting
With numerous carriers in the industry, offering multiple product lines, we all know that licensing requirements can be a real headache! Our One-Step process saves you time, and eliminates the need to constantly fill out new contracting paperwork when you find a new carrier or solution you would like to present to your clients!
Carrier Required Product Training
We know that there's nothing worse than having to go back to your client and get new paperwork signed! Our team provides you with the information and directions that you need in order to complete all carrier required product training so that your cases don't get declined over a technicality.
NAIC State Requirements
There's never been more "red tape" to cut through in order to do business. Times have changed, and keeping up with each state's requirements to write Annuity, Life and LTC business has never been more confusing… and we don't expect YOU to keep it all straight! We give you 24 hr access to state requirements on our website, and also provide you with the vendors that you can turn to in order to satisfy those requirements. Our Licensing Department is just a phone call away to assist you through this process so that you can concentrate on selling!
Gain Access To Our Online Tools
When you signup for our online tools, you will have 24 hour access to a wealth of tools to simplify your business. You will have access to tools such as:
Annuity Rates
Life Quotes
Underwriting & Prescreening Tools
Product Training Links & Licensing Info
Up-to-date Forms & Application